Heilige monnik
Vandaag is het volgens de oude kalender 12/25 juni
de naamdag van de Heilige Petrus van de Athos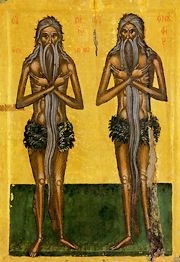 Saint Peter was born of noble parents in Constantinople in the ninth century. Sent forth with the Roman army against the Saracens, he was taken captive and shut up in the prison of Samarra in Syria; this is no doubt the same prison in which the Forty-Two Martyrs of Amorion were kept (see Mar. 6). Released from prison through the prayers of Saint Nicholas of Myra and Saint Symeon the God-receiver, he fled to Rome, where he became a monk, and later came to the peninsula of Athos, where he lived in a cave as a solitary, suffering many temptations from the evil one, but also enjoying the manifest help of the most holy Theotokos. After many years, he reposed in peace.
Bron:
iconograms.org
We lezen vandaag in de Kerk weer uit de Brief aan de Romeinen 2: 10-16
Iedereen die het goede doet wacht glorie, eer en vrede, de Joden in de eerste plaats, maar ook de andere volken. God maakt geen onderscheid. Allen die gezondigd hebben zonder de wet te kennen, zullen ook zonder de wet verloren gaan; en allen die gezondigd hebben terwijl ze de wet wel kennen, zullen door de wet worden veroordeeld. Niet wie de wet slechts aanhoort zal voor God rechtvaardig zijn, maar wie de wet naleeft. Wanneer namelijk heidenen, die de wet niet hebben, de wet van nature naleven, dan zijn ze zichzelf tot wet, ook al hebben ze hem niet. Ze bewijzen door hun daden dat wat de wet eist in hun hart geschreven staat; en hun geweten bevestigt dit, omdat ze zichzelf met hun gedachten beschuldigen of vrijpleiten. Dit alles zal blijken op de dag waarop, volgens het evangelie dat ik verkondig, God door Christus Jezus oordeelt over wat er in de mens verborgen is.